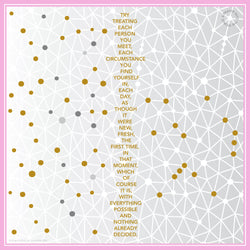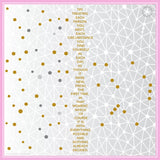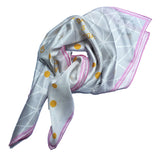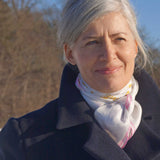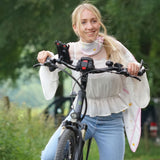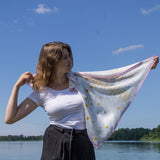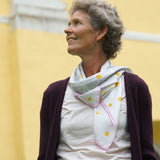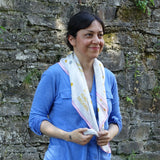 A Prayer into the World
First Time
RICH SATIN SILK
SIZE: 90 X 90 cm (35 x 35 in)
MATERIAL: 100% SILK
SILK CARE & HANDLING
WHAT IS SILK?
Silk is a luxurious material which has a natural drape, making it suitable for scarves. Silk feels very light and soft on the skin. It is made from cocoon strands from a silk butterfly larva and consists of 100% natural material. The fabrication of silk is done without chemicals and is renewable. Silk is a durable fabric which naturally repels dust and other particles, so it doesn't need to be washed as often as other materials.
The water, carbon, chemical, and land footprint for silk is very small compared to other fibres, making it an eco-friendly option.
TAKING CARE OF SILK AND SILK MIXES
Enjoy your scarf. It is a prayer into the world and a prayer to yourself, and it is there to be worn. To maintain its beautiful shine and texture always check the care label for best results as silk requires delicate care and treatment.
Be careful when you use jewellery with your scarves, as jewellery can easily catch on fine fabric. If you use perfume or hairspray, let it dry on you before putting on your scarf – chemicals could affect the fabric over time.
It is always safest to dry clean your silk scarf using environmentally safe dry cleaning methods. However, if your washing machine has a silk programme and you choose to wash it, at your own risk, we recommend that you use a mesh laundry bag and that you always use silk detergent, as regular detergent could ruin the fabric.
You can also hang your silk scarf outside for airing which works well, but don't hang it in the sun as the colours may fade.
If it is wrinkled, you can hang it in your bathroom and let the humidity "iron" out minor wrinkles.
FABRIC IRREGULARITIES
As silk is a natural fiber, minor irregularities and variations can occur in the texture and color of the fabric. This is characteristic for silk and silk mixes and adds to its natural beauty. These variations are not considered defects, rather it is part of the appeal of silk and what makes each silk scarf unique.
HAND WASH
If the care label says hand wash, please wash only with detergents suitable for silk and delicate fabrics and wash all items separately. Never use bleach with silk.
IRONING
It is possible to iron silk with care, but only use low heat as recommended on the care label and iron on the back of the fabric. If you do choose to use heat and steam place a cotton towel between the silk and the iron.
STAINS
If you get a stain on your scarf, take it to a professional cleaner. Alternatively, at your own risk, you can mix a small amount of white vinegar with an equal amount of lukewarm water and dab the stain prior to washing. We advise you to try the mixture on an inconspicuous area first.
PERFUME
If you are just trying on one of our scarves, before purchase, we ask that you do so without wearing perfumes, as this will get into the scarf. We do not take perfumed scarves back.